Penilaian Uji Konsistensi Dokumen AMDAL yang disahkan oleh Komisi Penilai AMDAL Provinsi Sumatera Selatan
The Assessment of EIA Document Consistency Aspect Validated by EIA Assessment Commission of South Sumatra Province
Keywords:
instrumen, mutu, pemantaun, pengelolaan
Abstract
Environmental Impact Assessment (EIA) is one of the instruments to prevent environmental pollution and/or damage (Undang-Undang 32, 2009). Success in preventing environmental pollution is closely related to the quality of the EIA document, especially the quality of the consistency aspects, such as the consistency between the hypothetical significant impact and the initial environmental baseline, the estimated magnitude of the impact, the environmental management and monitoring plan. Therefore, it is very necessary to assess the consistency of the EIA Document in the Province of South Sumatra. This research aims to assess the consistency test of the EIA Document approved by the EIA Assessment Commission of South Sumatra Province. This study used descriptive qualitative method. The research sample was taken using a total sampling technique, all EIA Documents that have been assessed by the EIA Assessment Commission of South Sumatra Province between 2018-2020 and already have an Environmental Feasibility Decree totaling 12 (twelve) documents are used as research samples. The results showed that 5 (five) documents (42%) had very good consistency,               6 (six) documents (50%) had good consistency and 1 (one) document (8%) ) had a bad consistency.
References
Bragagnolo C., Lemos C., Ladle R. J., Pellin A., 2017. Streamlining or sidestepping? Political pressure to revise environmental licensing and EIA in Brazil. Environmental Impact Assessment Review. 86-90.
Chang T., Nielsen E., Auberle W., Solop I. F., 2013. A quantitative method to analyze the quality of EIA information in wind energy development and avian/bat assessments. Environmental Impact Assessment Review. 38 : 142-150.
Frastiawan D., Sup A., 2020. Peran AMDAL Dalam Mengawal Etika Bisnis Terhadap Lingkungan Dalam Perspektif Ekonomi Syariah. Journal of Sharia Economics. 2 (1): 1-15.
Haryono, W. S., 2015. Pelaksanaan Izin Lingkungan oleh Kegiatan Wajib AMDAL atau Wajib UKL-UPL.
Kementerian Lingkungan Hidup, 2013. Peraturan Menteri Lingkungan Hidup Nomor 8 tahun 2013 tentang Tata Laksana Penilaian dan Pemeriksaan Dokumen Lingkungan Hidup serta Penerbitan Izin Lingkungan. Jakarta: KLH.
Kementerian Lingkungan Hidup dan Kehutanan, 2018. Peraturan Menteri Lingkungan Hidup dan Kehutanan Nomor P.26/MENLHK/SETJEN/ KUM.1/7/2018 tentang Pedoman Penyusunan dan Penilaian serta Pemeriksaan Dokumen Lingkungan Hidup Dalam Pelaksanaan Pelayanan Perizinan Berusaha Terintegrasi Secara Elektronik. Jakarta: KLHK.
Kolhoff A. J., Driessen P. P. J, Runhaar H. A. C., 2013. An Analysis Framework For Characterizing and Explaining Development of EIA Legislation in Developing Countries-Illustrated for Georgia, Ghana and Yemen. Environmental Impact Assessment Review. 38: 1–15.
Li, J. C., 2008. Environmental Impact Assessment in Developing Countries: An Opportunity for Greater Environmental Security?. Working Paper No 4. USAID and Foundation for Environmental Security & Sustainability.
Masri R. M., 2016. Evaluasi Amdal Pembangunan Gedung 10 Lantai Di Pusat Kota Bandung. Jurnal Media Teknik Sipil. 14 (2): 191.
Mukono, H. J., 2005. Kedudukan AMDAL dalam Pembangunan Berwawasan Lingkungan yang Berkelanjutan. Jurnal Kesehatan Lingkungan. 2 (1): 19-28.
Republik Indonesia, 2009. Undang-Undang Nomor 32 Tahun 2009 tentang Perlindungan dan Pengelolaan Lingkungan Hidup. Jakarta: RI.
Setianto H., dan Fahritsani H., 2019. Faktor Determinan Yang Berpengaruh Terhadap Pencemaran Sungai Musi Kota Palembang. Jurnal Media Komunikasi Geografi. 20 (2): 186-198
Sugiyono., 2019. Metode Penelitian Kuatitatif, Kualitatif, dan R&D. Bandung: Alfabeta.
Sukananda S., Nugraha D. A., 2020. Urgensi Penerapan Analisis Dampak Lingkungan (AMDAL) sebagai Kontrol Dampak terhadap Lingkungan di Indonesia. Jurnal Penegakan Hukum dan Keadilan. 1 (2): 119-137.
Syafni R., 2020. Evaluasi Peran Dinas Lingkungan Hidup dan Pertanahan Provinsi Sumatera Selatan Dalam Penilaian Dokumen AMDAL. Prosiding Seminar Nasional Lahan Suboptimal ke-8 Tahun 2020, Palembang 20 Oktober 2020. pp. 826-838.
Venita R., Effendi H., Wijayanto H., 2015. Analysis of Quality and Feasibility Criteria of Amdal Document in Bogor District and Bogor City. Journal of Natural Resources and Environmental Management. 5 (1): 7-16.
Wagner I., and Suteki S., 2019. Independensi Penilaian Amdal Sebagai Wujud Perlindungan Terhadap Lingkungan Hidup. Jurnal Pembangunan Hukum Indonesia, 1 (3): 404.
Wahyono, Suntoro, Sutarno, 2012. Efektifitas Pelaksanaan Dokumen Lingkungan Dalam Perlindungan dan Pengelolaan Lingkungan Hidup di Kabupaten Pacitan. Jurnal Ekosains. Vol IV.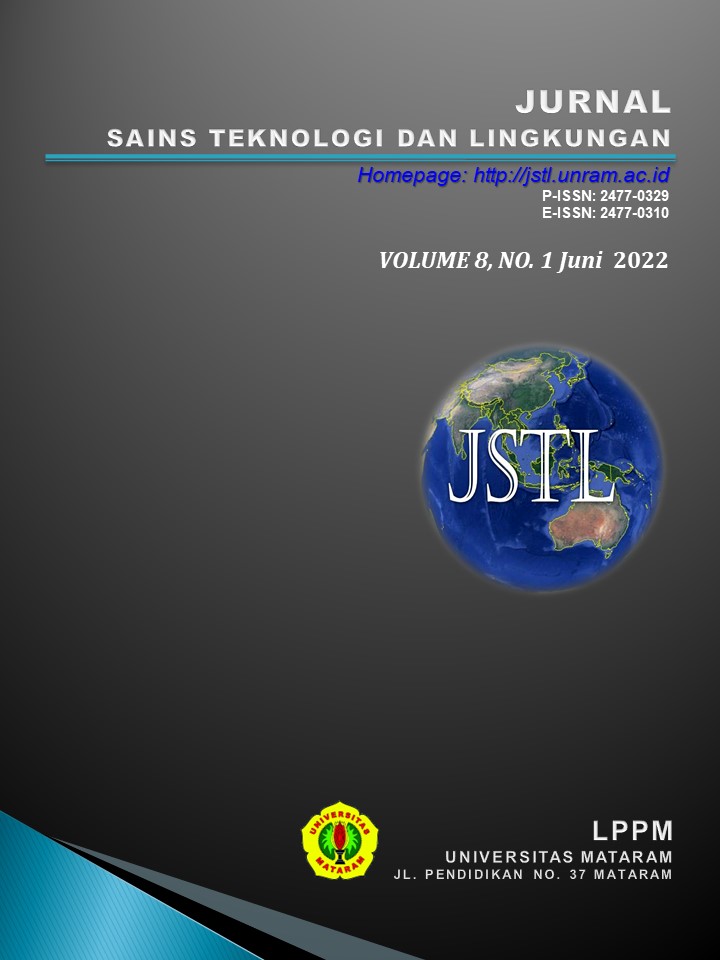 Downloads
License
Copyright (c) 2022 JURNAL SAINS TEKNOLOGI & LINGKUNGAN
This work is licensed under a Creative Commons Attribution-NonCommercial-ShareAlike 4.0 International License.